The tiny town of Kurri Kurri in Australia is home to 6,000 people. Like many small towns, the loss of a generational employer created an economic crisis and local businesses felt the impact.
In a country town, the pub serves not only as a watering hole but as a place for social connection. The publican of The Chelmsford Hotel, Laura Johnson, needed something that would create a tourism injection and maintain the sense of community that was so important. Just like that, an unlikely hero stepped up to the plate. All business in the front and party in the back. This town was saved by the mullet. I grant you, this seems like a lot of pressure to put on a haircut but in 2018 the first annual Mulletfest was run in Kurri Kurri, where those who had chosen the Mullet as a lifestyle not a hairstyle went head-to-head.
The event attracted more than 4000 people and media coverage in the US, and the UK. By 2019 it was 8,000 people and documentary crews arriving from Ireland and Croatia. Mulletfest had always had an international category where entrants can apply online but by 2020, international mullet-clad hopefuls began arriving at the pub in person from Norway, Philadelphia, Canada, and the UK.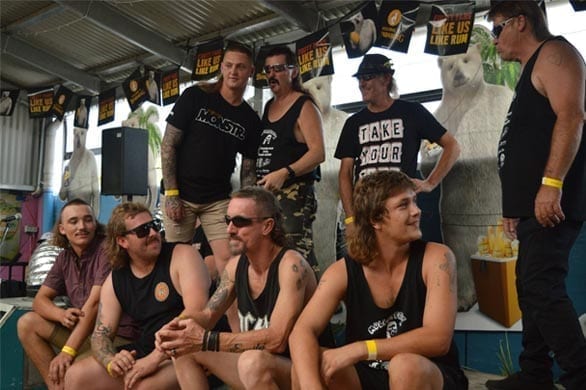 After Covid turned the world upside down, Mulletfest didn't miss a beat and was still able to hold a Covid safe event for 2021. In 2022 with the world slowly returning to normal, we decided it was time to spread the love. The tourism and hospitality industries which Mulletfest was designed to bolster had been decimated by the pandemic. We took Mulletfest on tour to do for other small towns what we had done for Kurri Kurri. The event's success was multi-dimensional, just like the style itself. We celebrate every form of the style from Grubby, Vintage, Ginger, Everyday, Extreme, and Rookie for those growing their Mullets for less than 2 years as well as 4 aged categories for our juniors.
Our internationals are all in together, so we can highlight our overseas mullet lovers. Though the style is iconic, it remains controversial, even mocked by some. There are regular stories about Mullets being banned from schools or hotels. If you feel like an outsider everywhere else, at Mulletfest you will feel like part of the family. We understand that it's the man or woman beneath the mane that matters. You need to be willing to look around, celebrate diversity and understand that maybe the heart is as big as the hair.
From the beginning, Mulletfest has been raising money for the Mark Hughes Foundation, for research and care for those who have been diagnosed with brain cancer. It's a cause close to our hearts. Mark Hughes, a celebrated national Rugby league player, grew up in Kurri Kurri and was diagnosed with brain cancer in 2013. He has worked tirelessly to create a better outcome for those in his situation. Mulletfest organiser, Laura Johnson, lost her friend, Matt Foster, to the disease in 2019.
His wife Carly remains involved with the event and the Rookie category is now named in his honour. Laura's on-stage co-host for 3 years Prousty, also lost his battle with brain cancer in 2021. They are the reason we keep going. The most unique beauty contest in the world is ready and waiting for your luscious locks. Now's the time to get involved.